Asia Information Retrieval Societies conference 2013
Rafael E. Banchs, Min Zhang, Ming Hui Dong
SLTC Newsletter, February 2014
The Chinese and Oriental Languages Information Processing Society (COLIPS) hosted the ninth edition of the Asia Information Retrieval Societies conference (AIRS 2013) from December 9 to 11, 2013 in Singapore. The Asia Information Retrieval Societies Conference (AIRS) aims to bring together researchers and developers to share new ideas and recent advances in the field of Information Retrieval (IR) and its applications in text, speech, image, multimedia and social data.
Given the increasing adoption of mobile platforms for information services in general, such as social media, information retrieval and e-commerce, the use of speech in the context of the information society is gaining preponderance at a very fast pace. New service paradigms, as well as new business models, are emerging around the use of speech and natural language interfaces. In this sense, AIRS 2013 has provided an excellent environment for technical discussion and debate on the most relevant and current trends for the modern information society, igniting the engines and preparing the Singapore's scientific landscape for the upcoming INTERSPEECH 2014.
This year, AIRS 2013 received a total of 109 submissions, which were reviewed by a program committee of 143 specialists. After peer reviewing, 45 submissions were accepted for being included in the proceedings and presented at the conference. In total 27 papers were selected for oral presentations and 18 for poster presentations. The proceedings were published as a Springer's LNCS Series Volume 8281.
The conference was attended by 85 participants from more than 20 countries. About 30% of the registered participants were students. The program also included an Invited Keynote Speech: "Information technologies as innovation drivers in the financial and banking industry" given by Ketan Samani, who is the Executive Director for Regional eBusiness of the Group Consumer Banking Department of DBS Bank in Singapore.
The Best Paper Award was conferred to Laure Soulier, Lynda Tamine and Wahiba Bahsoun for their paper "A Collaborative Document Ranking Model for a Multi-Faceted Search". In addition, best oral and best poster presentation awards were voted by the participants. The best oral presentation award was conferred to Alistair Moffat, for his paper "Seven Numeric Properties of Effectiveness Metrics". Finally, due to a tie in the collected votes, the best poster award was conferred to two teams: Qianli Xing, Yiqun Liu, Min Zhang, Shaoping Ma and Kuo Zhang for their paper "Characterizing Expertise of Search Engine Users" and Rajendra Prasath, Aidan Duane and Philip O'Reilly for their paper "Topic Assisted Fusion to Re-Rank Texts for Multi-Faceted Information Retrieval".
In addition to the technical program, AIRS 2013 featured two main social events: a cocktail session that ran in parallel with the poster presentations at the Rendezvous Grand Hotel Singapore, a modern upscale hotel that is located in the heart of the city; and a conference banquet, which was held at The Halia at Raffles, an urban, casual-chic restaurant and sibling of the award-winning Halia at Singapore Botanic Gardens.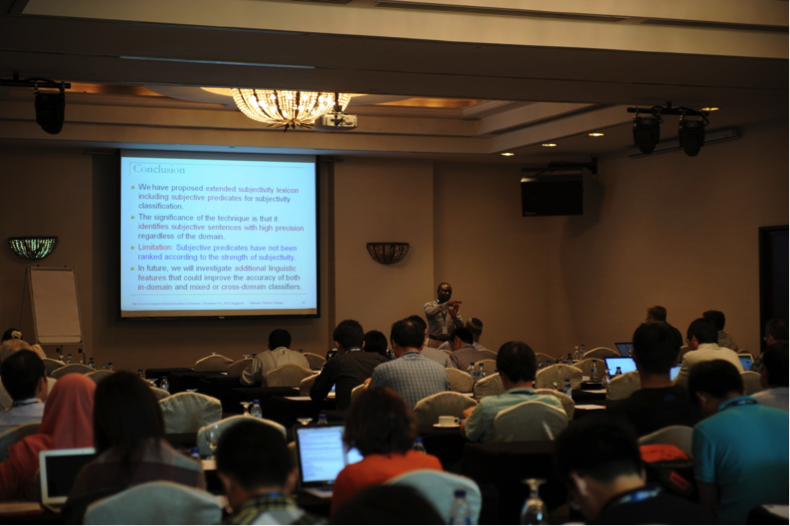 Acknowledgements and more Information
Rafael E. Banchs (rembanchs@i2r.a-star.edu.sg) is a Research Scientist at the HLT department of I2R in Singapore. His research interests are in the areas of Information Retrieval, Machine Translation and Dialogue Systems.
Min Zhang (zhangminmt@hotmail.com) is professor at the School of Computer Science and Technology, Soochow University, Suzhou, China. His research interests are in the areas of Machine Translation and Information Retrieval.
Min Hui Dong (mhdong@i2r.a-star.edu.sg) is vice-president of COLIPS and Research Scientist at the HLT department of I2R in Singapore. His research interests are in the areas of Speech Processing and Synthesis.